Heads of Nursing win RCN Child Health Award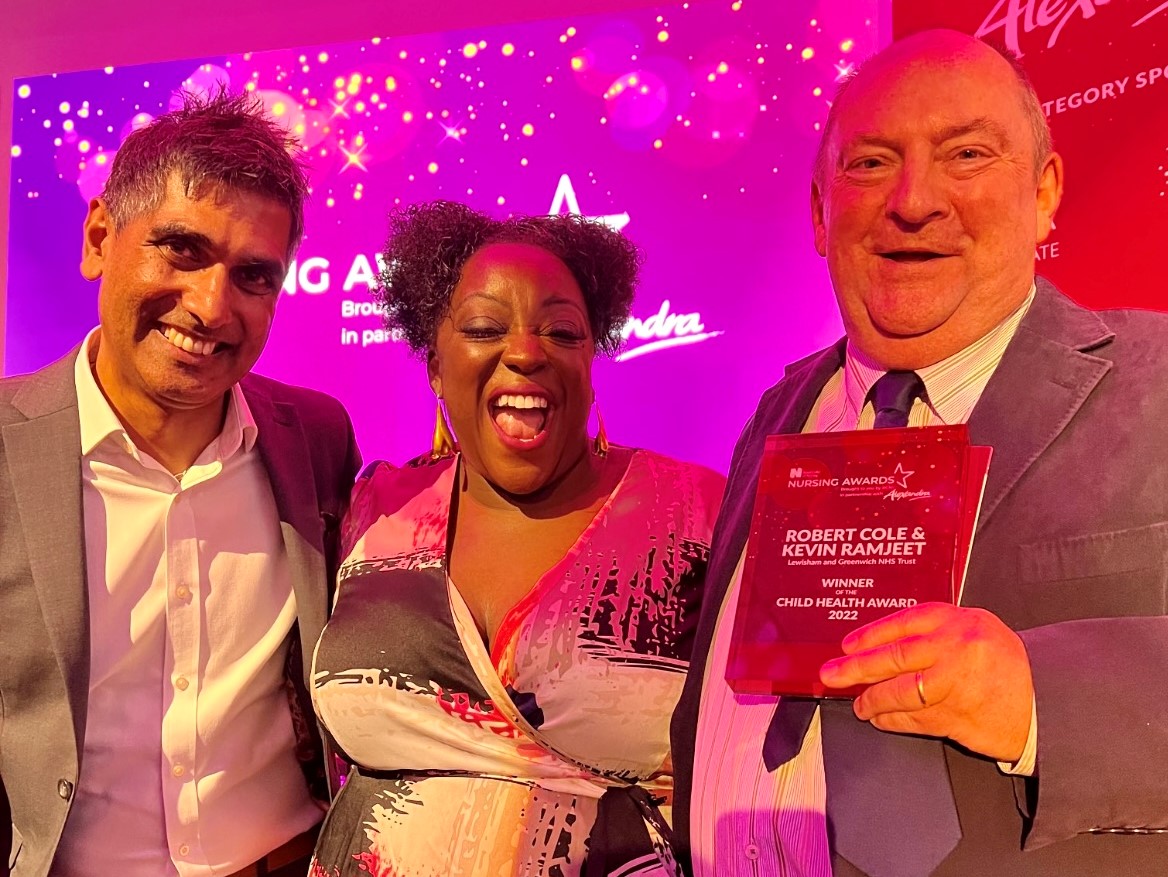 Congratulations to Robert Cole, our Head of Nursing for Children and Young People, and Kevin Ramjeet, Head of Nursing for Mental Health, on winning the Child Health Award at the Royal College of Nursing Awards. These prestigious awards recognise excellence in nursing and its contributions to outstanding patient care.
The awards were presented by comedian and TV presenter Judi Love at the Park Plaza Westminster Bridge Hotel in London last Thursday (6 October 2022).
Robert and Kevin were chosen as winners from more than 520 entries for the RCN's Child Health Award. Their win recognises their work together to improve the experience of children, family and caregivers presenting with mental health and behavioural crisis to at Lewisham and Greenwich NHS Trust.
The winning pair identified a surge in the number of children presenting with mental health problems or behavioural crises following the COVID-19 pandemic, including eating disorders and self-harming. Unprecedented demand on services had also resulted in increasing waiting times for these vulnerable patients.
In response they secured funding from the Trust to address these issues and recruited a dedicated specialist team to support children and their families presenting at A&E to access appropriate care as soon as possible.
The paediatric mental health support team are available seven days a week to provide therapeutic interventions, and Mr Cole and Mr Ramjeet ensured that children and their families are considered every step of the way.
Robert Cole, Head of Nursing explained: "We feel passionate about the significant impact the mental health practitioners are having in improving the quality of care for children and their families and carers. This award will give us the platform to share our innovation nationally, as well as our learning and the changes we have made to enhance the service for vulnerable children and young people."
Kevin Ramjeet, Head of Nursing for Mental Health added: "We are proud and delighted to win this award. This initiative is making a real difference, children with eating disorders are better supported, there has been a reduction in episodes of self-harm, and violent incidents, and the use of restraint has been reduced. Feedback from parents and carers has been positive, while safety and the working environment on the ward has improved."
Louise Crosby, Chief Nurse said: "Huge congratulations to Robert and Kevin on winning the RCN Child Health Award. This is a fantastic achievement, and we all applaud the commitment of these Heads of Nursing to supporting children and families in times of crisis."
The Royal College of Nursing Awards ceremony was an action-packed night that celebrated the outstanding achievements of dedicated nursing staff across the country.
Robert Cole, our Head of Nursing for Children and Young People, and Kevin Ramjeet, Head of Nursing for Mental Health with comedian and TV presenter Judi Love