Keeping a healthy smile while in hospital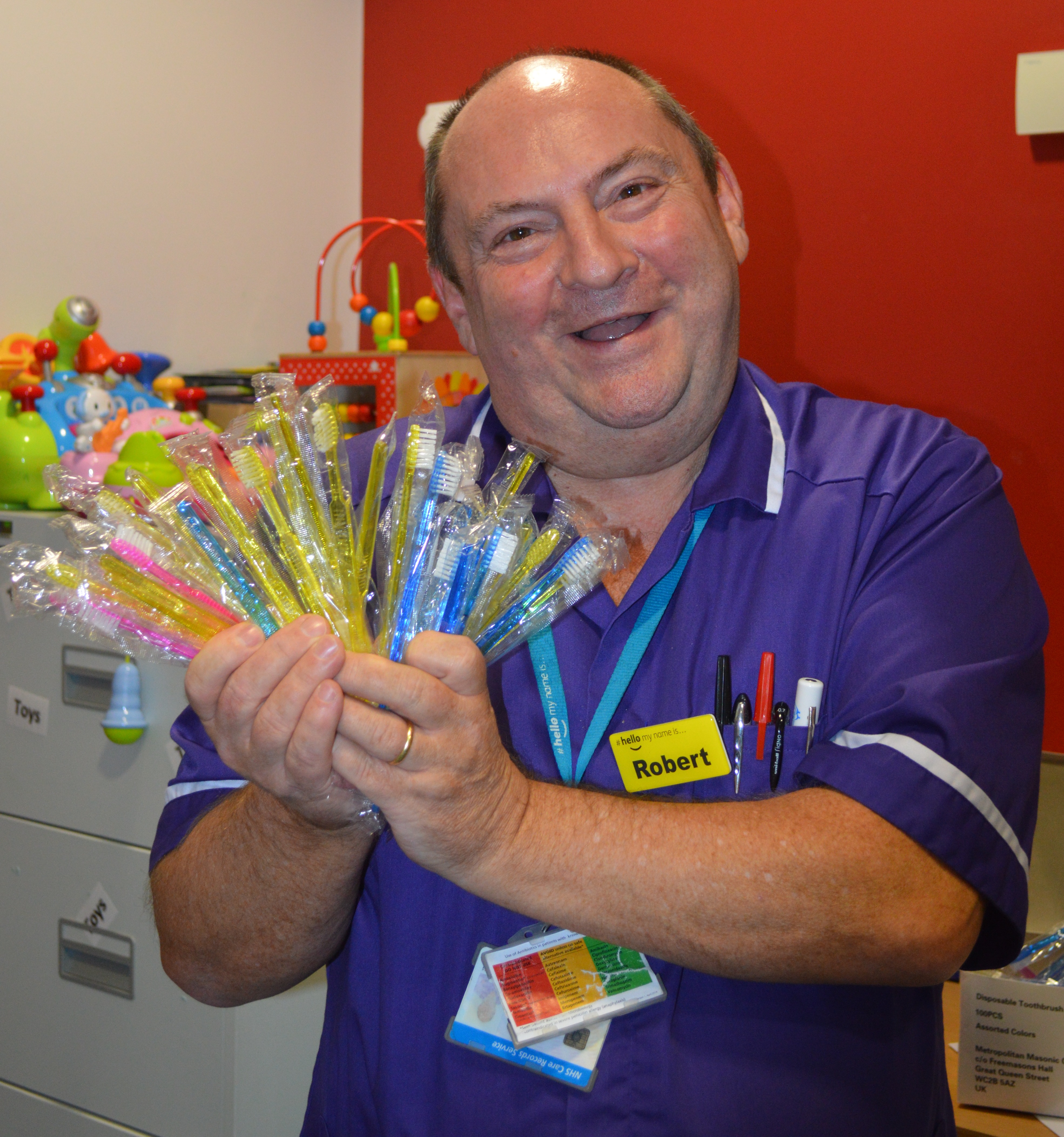 Young patients at Lewisham and Greenwich NHS Trust can now look after their teeth and gums while they are with us in hospital with a kind donation of 1,000 pre-powdered toothbrushes from the Metropolitan Grand Lodge of Freemasons Charity.
The toothbrushes will be shared between Children's A&E and Children's Inpatient wards at University Hospital Lewisham and Queen Elizabeth Hospital.
Keeping your child's teeth and gums healthy with regular brushing is important as the percentage of 5 year olds in Greenwich with tooth decay is 24% and in Lewisham is 23%*. NHS Choices recommends parents brush their children's teeth from when the first milk tooth breaks through at around six months.
Robert Cole, matron in the Children's A&E department at University Hospital Lewisham, said: "We are very pleased to have this donation of toothbrushes from the Metropolitan Grand Lodge. It's very important that children brush their teeth regularly as this prevents tooth decay and gum problems in later life. Having a supply in our hospitals will really help our parents and their children to manage their usual routines until they can bring in toiletries from home.
"If a child comes into hospital as an emergency the last thing on a parent's mind will probably be their toothbrush so this donation will help them to look after their teeth while we look after them."
Alan Hillman of the Metropolitan Grand Lodge said: "London Freemasons are happy to do a small part in keeping Lewisham's children smiling."
Ends
For more information contact the communications team on 0203 192 6094 or email communications.lg@nhs.net
*Source: National Dental Epidemiology, Programme for England: oral health survey of five-year-old children 2015. A report on the prevalence and severity of dental decay http://www.nwph.net/dentalhealth/14_15_5yearold/14_15_16/DPHEP%20for%20England%20OH%20Survey%205yr%202015%20Report%20FINAL%20Gateway%20approved.pdf
NHS Choices: https://www.nhs.uk/Livewell/dentalhealth/Pages/Careofkidsteeth.aspx